Ladies and Gentlemen, We would like to introduce to you a wide range of products offered by BPM LLC, the only authorized representative of Altrad Mostostal in north-eastern Poland.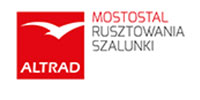 Altrad Mostostal is a leader among manufacturers of solid scaffolding and formwork on the domestic and European market.
Building winches, chutes for rubble, adjustable fences, meshes, tilts.
If you have any questions, doubts or the desire to receive price lists or additional materials describing particular products in greater detail, please contact us by phone:
Mobile +48 606 118 224, +48 604 482 951
 or by e-mail:
poczta@bpmrusztowania.pl